UWE Bristol staff stories - Laura
Laura is a Research Fellow in the Air Quality Management Resource Centre.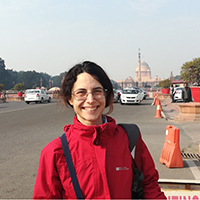 When did you join UWE Bristol?
"I joined UWE Bristol as a Research Associate in 2017 with a part-time position, while I was still finishing my PhD at the University of Bristol. Then an opportunity for a full-time position at the Air Quality Management Resource Centre arose and I progressed to my current role last year."
What is your typical day like?
"It is difficult to define a typical day as a researcher and our schedule changes a lot throughout the year. Typically, we have regular team meetings to discuss ideas for future bids and ongoing projects. I also spend a lot of time reading academic papers and policy papers, planning fieldworks and conducting data analysis or planning and preparing lectures. I also supervise students for their final year dissertations and try to meet them as much as possible. Other parts of the year are occupied by fieldtrips and conferences, so you can end up travelling a lot."
How has UWE Bristol supported your progression?
"My team and my line manager are very supportive and encourage me to take advantage of training opportunities and to work towards skills and competencies that are needed to progress to the next level. I appreciate the fact that I regularly discuss my progress with my line manager and receive constructive feedback. I also have a research mentor that I meet more or less once a month and she has given me a lot of advice on how to focus and prioritise my activities and competing demands. I would like to balance research and teaching activities and integrate our projects findings in my lectures. Students normally are interested to know more about the research that we conduct here at UWE Bristol, they enjoy seeing the pictures from field trips and hear our stories and experiences with public engagement as well as research."
What is the challenge with your role?
"As a researcher you experience many rejections – unsuccessful bids or papers not being accepted. I think the normal reaction is to take it very personally at first and this can make you feel like a failure or that you've let your team down and I am still learning how to handle this. It is ok to be upset and it takes time to get over it. Having support outside of work is so important. But it helps a lot to know that this is a normal part of a career as a researcher. Talking with friends and family is also important, as well as hobbies and passions outside work to remind you that life is more than your job. In the evenings, I do martial arts and I protect this time at all cost as it helps me to relax and keep things in perspective."
What values in the workplace are important to you?
"I am proud to work at UWE Bristol because I feel valued as a person as well as an employee. In my experience people are very supportive and understanding. For example, my family live far away so flexibility is very important for me if anything happens. I feel I have support for this at UWE Bristol.
"Also, I share many of the UWE Bristol values. Inclusivity is key for me. As a lesbian woman it is important to be in a place where I can be out and talk about my personal life and my wife openly.
"This is the first time I am fully 'out' in the workplace and it makes such a difference – it is very liberating and empowering.
"As a researcher who takes part in international fieldtrips it is also important to be able to discuss openly with colleagues the potential implications of my sexual orientation when we are abroad as it is very easy to forget that not all places are safe for LGBT people, and in many countries it is still illegal. If you're out in the workplace and your colleagues are supportive, you can have this conversation and avoid or mitigate circumstances that could otherwise potentially be uncomfortable or risky.
"One of the best experiences I have had in my life was marching at Pride with UWE. Growing up in Southern Italy as a lesbian girl was not easy. I certainly never imagined that one day I would see my employer attending and sponsoring Pride, or that my employer would make me feel like I am in the right place without the need to hide constantly. It still feels too good to be true and it gives me a sense of belonging. The presence within UWE Bristol of LGBT+ people in senior roles, of an LGBT+ network and of an LGBT+ Ally network is also important and signals to me that I am working in an inclusive environment that values diversity."
What is the best thing about working at UWE Bristol?
"I value education and learning as key means to achieve a progressive and inclusive society. UWE Bristol is a very dynamic place to work. It allows you to grow and to push personal and disciplinary boundaries, which is important when you're trying to tackle societal challenges like climate change or air pollution. I also like the fact that UWE Bristol is very present in Bristol's life and events and is part of many inspiring local projects."