UWE Bristol staff stories – Jane
"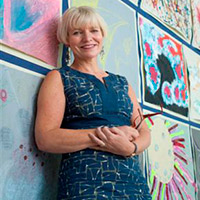 I became a teacher by accident. My first degree was in law but I decided that I didn't want to work in the legal profession. After a stint volunteering with young children, I found I really loved it and decided to do a PGCE so that I could become a teacher. The rest, as they say, is history!
"I joined UWE Bristol from a professional background, having previously worked as a Deputy Head for a Primary School and for a local authority as a literacy consultant. UWE Bristol has been fantastic in enabling me to progress academically. I have been supported through UWE Bristol's Academic Development Programme, then through my Masters and now with funding to complete my Doctorate.
"Opportunities for research are extensive within a university environment. I am associated with the Bristol Centre for Research in Lifelong Learning and Education (BRILLE). I also won a National Teaching Fellowship Award last year which was a great achievement for me personally as well as the Department I work in.
"My job at UWE Bristol is all about preparing the next generation of students to be teachers; teaching students how to teach early reading and writing and how to develop language and literacy. I support students to develop an understanding and a passion for literacy and language – something which has been my passion for a long time. I have a particular interest in children's literature and I love the potential for its use in schools.
"I run book clubs with both undergraduate and postgraduate students with the aim of getting them to read children's literature as readers, so that they can develop an understanding and passion for it themselves and then share it with young children. Colleagues and I work closely with hundreds of schools in Southern England and Wales, supporting our students who work there. I also run a number of projects with smaller groups of schools, for example 'Better Reading Partners' where I train students to deliver an intervention programme in schools, supporting children who have difficulties with reading.
"The best thing about my job is working with the students. It's great to be able to support and develop someone who will go out into the profession and make a difference. It gives me a real sense of pride and achievement."