UWE Bristol staff stories - Daryn
Daryn is a Placement Administrator in the Library, Careers and Inclusivity department at UWE Bristol.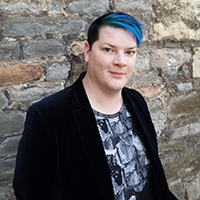 Why did you (re)join UWE and how did you find a job-share role?
"I worked at UWE Bristol from 2011 to 2014 and re-joined in 2017. I really wanted to come back as I missed the environment and culture. I came back to UWE Bristol via the temporary bank and then applied for the permanent role when it came up. When I joined the Placements team I met with the manager for an informal discussion. She had a rainbow ribbon on her lanyard and I was so happy to see it, as it reassured me that being LGBT+ would not be an issue. The permanent role was advertised full time but it did say you could apply as a job share. So once I was offered I asked to work part time and my manager was fine with it."
What is your current role?
"I'm a Placements Administrator and I support students to find their year out in industry and then support them while in placement. We work with a lot of students, offering advice and support on the phone as well as one-to-one drop-in sessions."
Tell me about running Bristol Pride. Also, how do you balance different commitments?
"I'm one of the founding members of Bristol Pride and I have been working to make Pride happen since 2009. Pride is all consuming but as I do it on a voluntary basis, I need to work to earn a living and UWE Bristol is a great place to work. It's been really great to have the opportunity to work part-time. UWE Bristol's flexi scheme has allowed me to take the time when I need and make it up when I can."
Why do you think Pride is important?
"Pride is the opportunity to celebrate and give visibility to the LGBT+ community and fundamentally, it is the one day a year where people can be themselves and meet people and know they're not alone or isolated. It's for everyone, young or old, and they get to find out more about a community that they may not have known about. This is really powerful. Pride also helps make connections and brings people together."
How is UWE Bristol involved with Bristol Pride?
"UWE Bristol has supported Bristol Pride from the beginning. It's really nice to watch a thank you video created by LGBT+ student society for the 10th year of UWE Bristol support for Pride. Many businesses want to be involved now, whereas 10 years ago it was quite hard to knock on those doors. UWE Bristol was there supporting it from the start and maybe that's why I have such an affinity with the University.
"It's great that the University has been championing Pride and encouraging many staff who do not identify as LGBT+ to engage. It's been wonderful to see people from my department at Pride, enjoying themselves and showing their support."
Has being out as a gay person had any impact on your experience at work?
"It's been great. I've never had any awkward comments and everyone has been really inclusive. I've worked in different places before and you have to make a conscious decision everyday as a gay man whether to come out or not, do I tell them I was with my "boyfriend" or my "partner". If you're straight, you don't have that problem.
"So, it's nice not having to hide part of my weekend and who I am in my office. It is draining to have to think about what terminology to use according to your audience. I'm a member of the UWE Bristol LGBT+ staff network and we hold events and socials. The University also supports and promotes LGBT history month and Trans Awareness week to all staff and students, which is great. Occasionally you'll drive into campus and the rainbow flag or the trans flag will be flying on the flag post and it always puts a smile to my face. It's important to remember it's not just for staff but for students as well.
"Inclusivity is one of UWE Bristol's core values, and it's something that is very important to me. I'm in the fortunate position where I could probably choose where I work and I want to work at UWE Bristol because it is an inclusive environment and a welcoming space. I think that's something that's really important to me, as well as the flexibility to do what I need to do."
What's the best thing about UWE?
"The whole campus is busy and exciting, there's something going on pretty much every day at campus and I think it's enriching. I'm not a student but I'm still learning from fantastic business talks or talks the students have put on."