UWE Bristol staff stories - Darren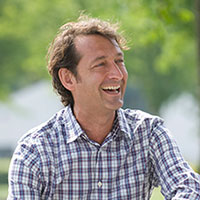 "My career was never planned as such. I'm from a small mining town in Yorkshire and knew no one who had gone to university. I went to Sixth Form because there were few opportunities at the time. At a careers interview I was asked what I wanted to do. I glanced at the wall for inspiration, saw a poster for environmental sciences at Plymouth University and here I am today.
"I've worked here for 13 years now and I know it sounds idealistic but I really do believe that I have the best job in the world! I feel that my research gives me the authority to teach and the work we are doing makes a difference - developing technologies that help improve healthcare, food security and better management of our resources.
"The best hope I have of changing the world for the better is through my research and teaching, and using these to try and inspire people to share my passion for science and the environment. Our students use the knowledge they acquire here at UWE Bristol and forge ahead in the world, working for large corporations, small businesses, in education and research shaping the future. I'm really proud of that.
"I'm very lucky that the people I work with allow me to get on and do what I do best. I believe there are three reasons why someone should consider working here at UWE Bristol. Firstly, the people. They help you get through difficult times and support you to make a difference. Then the students – I really do think that we transform lives here at UWE Bristol and provide fantastic opportunities for our students. Lastly, Bristol is an amazing place to live. There is always something going on and my family and I just love it!"