UWE Bristol staff stories - Carol
Carol is a
Professor in Knowledge Exchange and Innovation.
When did you join UWE Bristol?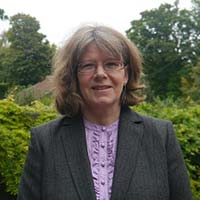 "I started in 2005 as a Visiting Lecturer in Organisation Studies. I'd completed a part-time PhD at UWE Bristol whilst running my own consultancy practice. I'd been consulting for 20 years and wanted to do something a bit different. I really enjoyed the work and when a permanent post came up, I applied and was successful.
"I've had a few different roles during my time at UWE Bristol, including Deputy Director of Executive Education; Associate Head of Department in Organisation Studies; and Associate Professor of Knowledge Exchange. I started my current role as Professor of Knowledge Exchange and Innovation in October 2017. Having these different roles has helped me meet people across the University and see how it works from different perspectives."
What is the focus of your current role?
"It's really varied. On the knowledge exchange and business engagement front an ongoing theme of my work is bringing things together and putting strategy into practice. We work collaboratively with people and organisations, drawing on and valuing their experience, supporting and coaching them to develop approaches that work in their contexts, co-creating new ways of working and fostering innovative business practices that are sustainable. My learning and teaching also takes a more experiential approach, with an emphasis on team coaching and I led on the development of our team entrepreneurship programmes. Currently I teach mainly postgraduate students. My research interests include leadership of innovation in the UK health sector; learning entrepreneurship; and coaching for transition.
"I have had a lot of support from colleagues in the department and Faculty to progress my own career and I hope I now perform a similar role for colleagues looking to progress theirs – it's an important part of being a professor at UWE Bristol and helps make it a collegial place to work."
What has helped you to progress during your time at UWE Bristol?
"I had a mentor for a year when I started, as all academics do here. I also had a couple of established colleagues who acted as informal mentors. I've always sought out people, tried to make connections, to understand how things work.
"My advice if you're building your career as an academic is to get out and talk to people from all areas of the University; to know and set your boundaries to ensure the enthusiasm for your subject doesn't become all consuming; and to not be afraid to ask for help. There are different career progression routes for academics. Talk to colleagues and read the generic job descriptions to figure out which are best suited to you and your aspirations, then look for opportunities that help you meet the person specifications. Keep an awareness of what's in the UWE Bristol strategy and think about how the things you're doing, or could be doing, fit with the strategy. Most of all be a good colleague!"
What values in the workplace are important to you?
"I've always been driven by what I'm passionate about – it's important to me to enjoy what I'm doing and feel like it's making a difference to people I'm working with. I'm also driven by a commitment to social justice and inclusion.
"UWE Bristol's values of being innovative and ambitious particularly relate to the work I do."
"For example, I work with organisations such as the NHS on leadership development programmes and work with people on innovation challenges that take them out of their comfort zones and develop their entrepreneurial mindset. Ambition can be seen and interpreted in different ways, but for me, it is important to feel that when I retire I've made a positive difference and to encourage students and participants on our leadership development courses to strive to be their best self, to be ambitious, responsible and ethical in their approach to leadership and management.
"Being solutions-focused is also important and a cornerstone of the entrepreneurial mindset so when you come across a problem, you don't focus on all the things you can't do, but figure out workable ways forward."
What is the best thing about working at UWE Bristol?
"There are lots of good things about working at UWE Bristol, but for me the best thing is my colleagues. I love the people that I work with and think it's a positive that we're not all the same and don't always agree about everything. I also work with some amazing students from all over the world and get to research things I'm passionate about.
"I think UWE Bristol is quite a collaborative environment and one of the great things within the Business School is the strong practitioner focus. No two days are the same and working in Knowledge Exchange, I learn just as much as the people I'm working with, which relates to my own core drivers: to learn and be curious."