TEF (Teaching Excellence Framework) Gold status
In June 2018 UWE Bristol was awarded gold status in the Government rankings for higher education providers.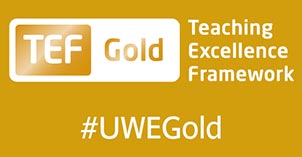 UWE Bristol has been recognised with the highest possible rating in the Teaching Excellence and Student Outcomes Framework (TEF) 2018. Gold-standard institutions have provision that is consistently outstanding and of the highest quality found in the sector.
Advancing from the silver rating awarded in 2017, the University has been praised by assessors for outstanding graduate employability outcomes and successful approaches to personalised learning.
The framework led by the Office for Students (OfS) measures the performance of all UK universities and higher education providers based on a wide range of factors including graduate employability, National Student Survey (NSS) results and learning environment.
Gold status assessment
In its 2018 assessment, UWE Bristol received recognition for:
outstanding performance with regard to sustained employment and graduate earnings
students from all backgrounds achieving consistently outstanding outcomes
student satisfaction with academic support, and the rate of progression to highly skilled employment or further study, being above the University's benchmarks
outstanding learning resources with extensive facilities for lecture capture
successful approaches to personalised learning, with effective support arrangements for specific student groups, that secure the highest levels of student engagement with learning.
Overall, the TEF panel of assessors judged that the combination of UWE Bristol's performance data and its submission met the criteria for a gold award, which is valid for up to three years.
The University is ranked in the top quartile of all higher education providers in the UK and, as of June 2018, is among only five universities in the South West to hold gold TEF status.
---
"We are absolutely thrilled to receive this gold award. It recognises the importance we place on the student experience and teaching, and how our practice orientated and professionally accredited courses consistently equip our students for graduate level jobs."
---
Find out more about UWE Bristol's ranking and reputation.
What next?
It is likely that 2018/19 will be the last year that TEF will operate at provider level only. It is expected that, from 2019/20, individual ratings for subjects will be introduced, as well as provider level ratings.
The Office for Students (OfS) is piloting, on behalf of the Department for Education (DfE), two models for identifying subject-level ratings. The outcomes of the 2017/18 pilot, a recent DfE consultation exercise and DfE's student research will inform a second year of pilots.
TEF awards can last up to three years, so UWE Bristol will need to resubmit in 2020/21 by which time the subject-level approach will be established.
More information on TEF can be found from the The Office for Students.