Donor Wall project - celebrating our donors
The £55m Bristol Business School opened for business in April 2017 and our donors played a big part in the success of the project.
Our fundraising campaign has seen us receive support from companies across Bristol including Clarke Willmott and TLT Solicitors. In addition, a range of Trusts and Foundations donated significant sums to the campaign and provided a matched funding opportunity that has seen all donations matched, £500 for every £1,000.
A number of alumni also donated and became involved in the project in a variety of ways.
---
"Whether you're in Bristol, the South West or beyond, it's in everyone's interest and society's interest that young people receive a good education, have got the wherewithal to learn and are given the best possible chance... I can't think of many better causes to donate money to."
---
Donor Wall project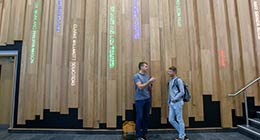 A unique feature of the building is the stunning Donor Wall, designed by current students to recognise the philanthropy of donors such as Nick. A group of five UWE Bristol Architecture students took on a 'live' project to design the installation.
A client group, including Nick, was put together and following a briefing session, the students developed a concept which over eight weeks turned ideas into reality.
Projects like this are of enormous value to UWE Bristol students and are a key part of our goal to equip all our students with real life skills and produce ready and able graduates.
---
"Working on a live project gives you an invaluable insight into the constraints and opportunities that the real world offers.

The Donor Wall assignment was a very rewarding experience which I felt privileged to be a part of, especially as the project is going to be on display in the University for years to come!"
---
This exceptional installation is a stunning example of limitless enthusiasm and big ideas. It is now on display to all who use the building (located near the car park entrance), recognising the generosity of donors and leaving a legacy to current and future students about the power of philanthropy.