About Bristol Business School
From our £55 million investment we have a 17,200m2 space serving 5,500 students and containing 148 offices over 7 floors.
More than a university
Bristol Business School is designed with our students learning at the forefront. Uniting a place of study with a professional place of business - a space that exemplifies the type of business setting that our students may go to work upon graduation.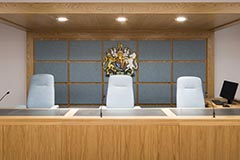 As you enter Bristol Business School a warm and welcoming café greets you and as you look up from the Atrium you can see some of our professional spaces:
our Bloomberg City Trading room enabling our students to work on live market data and experience the trading world for the first time
our showcase law courts where students act out real scenarios to enhance their learning
our Team Entrepreneurship space where students set-up and run their own business while studying with us.
Mixing business with learning
Our students have the opportunity to rub shoulders with real businesses based in the Business School. You'll find spaces where students and business professionals are brought together. And there's an on-site legal advice and business clinic where small businesses can come and receive free business and legal advice from our students. This brings benefits to both parties; as a student it's a great way to put learning into practice, professionally network and make connections. Our Business partners receive free advice and can talent spot for future employment opportunities.
"We want our students to be ready and able graduates. And, our building bridges a university environment with a professional working environment"
Businesses can take advantage of our spaces too. Our rooms are available for hire and we can help cater for events, conferences, and training. And for those who require a semi-permanent base, our Business Engagement Centre offers an executive education suite and meeting spaces.
Our ambition made real
Our building represents our standing as an internationally renowned Business and Law School and it demonstrates our ambition as an institution both with the scale and with the financial investment from the University and our donors.
Find out more about the building of Bristol Business School.
Facilities
The building houses all Bristol Business School and Bristol Law School staff and provides innovative teaching spaces for our programmes in Accounting, Economics and Finance, Business and Management, and Law (including professional legal education).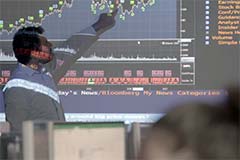 The new building includes:
two showcase law courts
Bloomberg city trading room
300 seat lecture theatre
two Harvard lecture theatres
Technology Enhanced Active Learning (TEAL) classrooms
flexible social learning spaces
an external business engagement space
incubator and coaching space for our BA(Hons) Business (Team Entrepreneurship) programme
Bristol Business Engagement Centre including an executive education suite and meeting spaces
three Research Centres (Leadership, Law, Finance and Economics) and research groups
a Pro Bono business and law clinic
a central atrium and café, with an outside area
spaces for hire by business and partners for events, conferences, training and meetings.