Lean

Lean is an approach to change that focusses on improving processes. At UWE Bristol, its emphasis is on making life easier for staff and students. It aims to minimise waste and maximise efficiency and effectiveness. In short, it makes things work better.
Our approach
The lean approach seeks to define, analyse and improve processes, using the knowledge and expertise of UWE Bristol staff to identify issues and come up with solutions. The university has adopted ICE Creates Lean 5E's model which breaks the review down into five stages, establish; explore; envisage; experiment; and embed.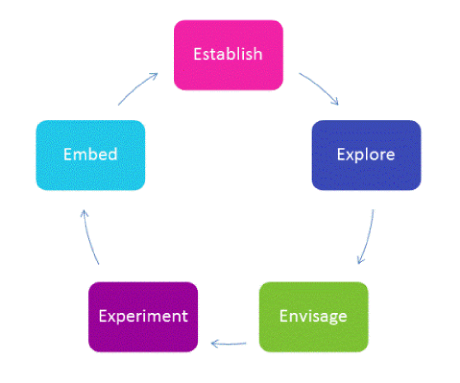 The University uses this approach and offers two models of delivery:
Strategic lean reviews are focused on improving complex or operationally critical problems that tend to cross functional areas. These reviews tend to last between 3-4 months with the review team seconded to the review for 2-3 days per week.
Rapid Improvement Events (RIEs) are smaller more-focused reviews where the problem being addressed tends to fall within self-contained operational areas. A RIE is shorter in length to the strategic reviews and tends to be run over two to three days with the operational area then taking any recommendations through to implementation.
What are the benefits?
Lean offers a number of benefits to an organisation, including:
It allows a compelling case for change to be presented to senior leaders.
The review teams involve staff that are directly part of the process. This allows teams to create an understanding of the end to end process and not just the work undertaken in their own area.
It enables change to occur relatively quickly.
Staff feel involved and are empowered to identify the areas that need to be changed and to come up with changes they would like to implement.
Skills transfer, giving staff the tools, techniques and confidence to undertaken reviews of their own day-to-day tasks.
Top tips for running lean reviews
Get senior management buy-in and clear sponsorship
Clearly defined scope
Commitment to resource the review
Involve the right people
Engage students and academics
Be patient – the changes may not all happen at once
Benefits tracking
How do I find out more about lean reviews
If you would like to find out more about lean reviews at UWE Bristol or if you think that you have an issue that lends itself to a lean review, please contact the Strategic Programmes Office in the first instance.