Carbon, energy and water

- projects and campaigns
We are continuously working on new projects to reduce the University's energy consumption, and proactively save money, below are just some examples of the Energy Team's recent work.
District heating network and combined heat and power
A low carbon district heating network supplied by a gas-fired combined heat and power (CHP) plant will meet 35% of the Frenchay campus heat requirements and 21% of all the electricity used on the campus. This will save 700 tonnes of carbon dioxide (tCO2) per year from 2019 and provide a financial payback within seven years. Further plans are being developed to extend the network and install additional low carbon heat sources.
The CHP will be housed in the T-block Energy Centre, with the district heating network initially linking to the following buildings on campus: the Students' Union building, the Faculty of Business and Law building, the Exhibition and Conference Centre and part of the Wallscourt Park residences.
Water conservation
How the glamorous world of toilets and urinals at UWE Bristol stops us losing money!

In the world's largest living lab, a combined effort from academics, operational staff, industry experts, and students, has identified initial savings of over £145k that can be made in wasted water at UWE Bristol alone, largely from being flushed down 2,000 toilets with faulty flushes.

This is the biggest academic/operational collaboration at UWE Bristol, using research and data analysis to inform actions across the site, with remarkable results. It's not a project to photograph, but what is stunning are the savings… already at £20k after a few months, and with £145k annual savings to be realised with retrofitting (May–July 2018), and further projects continuously being identified.
Lighting projects and upgrades
Over £822k has been committed for a number of lighting design schemes projected to deliver 283 tonnes of carbon savings per year. Works are underway (summer 2018) to install LED fittings and intelligent controls to areas including: the Exhibition and Conference Centre's internal and external lighting, S block internal lighting, R Block external lighting, Mallard House internal and external lighting, Q block internal lighting.
Data validation project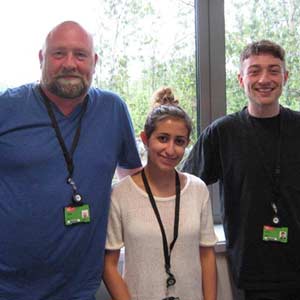 Meet our Data Masters: Pictured from left to right: Ian, Juliana and Richard.
Students from the Faculty of Environment and Technology are gaining energy management experience working on a large data validation exercise with the Energy Team. This is a key part of our monitoring and targeting programme, where we will use the data to focus in on energy and water savings, and delegate carbon reduction to key managers throughout UWE Bristol. Our objective is to produce near real-time data of the highest quality for our academics, students and operational staff to use.
Metering
Continued development of the automatic metering infrastructure on all campuses to allow greater monitoring and measurement of energy consumption.
Carbon Action Programme
A trial of carbon allowances for faculties, empowering faculties to take ownership of their carbon emissions, working closely with the energy team to identify and fund projects to reduce emissions further.
Energy Management Systems
Continued development of UWE Bristol's Energy Management Systems to ensure constant improvement.
Renewables on-site
Other projects include
Urinal fault in the Farmhouse, Frenchay Campus (see below for details)
Faculty of Business and Law building eco-features
Students' Union building eco-features
Verdiem Surveyor PC power management software
Making light work
Christmas and Easter switch-off campaigns
Reduce the Juice campaign
Valve insulation
Fridge/freezer demand
Schneider BMS analysis
Room efficiency initiatives
Soft landings
Urinal Fault in the Farmhouse, Frenchay Campus
A long term fault was reported to the Energy Team during the last week in July 2017, that a urinal had been running continuously for some time in the Farmhouse. This was investigated, and the urinal was found to be without any flow control. The cisterns were replaced, saving around 1350m3 water/year, at a financial saving of £3,100/year. The average four-person occupied house in the UK uses 164m3 water/year. So this repair alone will save the equivalent water consumption of 8.25 family homes per year. Further investigation has shown that this is a repeatable measure with Bower Ashton in particular likely to provide savings of £13k.
Previous projects include
Campus Carbon Visualiser
The Campus Carbon Visualiser tool shows the carbon emissions from energy use in campus buildings.
Centre for Sport lighting upgrade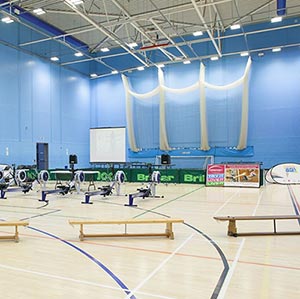 In 2015, the lighting in the sports hall and squash courts was replaced, and smart controls put in place. 182 fittings (each containing 4 x 55W lamps) were replaced with 97 fittings housing 108W or 48W LEDs.

Full controls have also been installed including motion sensors to ensure unused space remains unlit, and a user-friendly booking system allows staff to light space for the time necessary, and at a lighting level appropriate to the activity. The new system has a clean light and the additional benefit of reduced maintenance requirements. Monthly electricity savings of over £1,000 a month are being achieved.
Glenside window draught-proofing
All 2,700 windows on the Glenside campus were draught-proofed to effectively reduce heat loss, as well as making rooms more comfortable for users.