Carbon and energy strategy
The Carbon Management Plan 2013-2020 outlines the commitment and ambition that UWE Bristol has for reducing our impact on the environment. The plan is created with the input of students, professional services staff, academics and the Carbon Trust.
We have committed £1million per year for the life of the Carbon Management Plan 2013-2020, to fund energy efficiency and carbon-reduction projects – a 50% increase on previous years' project funds which were limited to a £0.5m Salix Recycling Fund.
This plan outlines targets and clear implementation plans with estimated cost savings, timescales and resources. These are summarised in the Carbon Road Map.
Targets relate to Scope 1, 2 and 3 emissions and all are included in the Carbon Management Plan:
Scope 1: these are emissions that arise directly from sources that are owned or controlled by the University, for example from fuels used in UWE Bristol-owned vehicles.
Scope 2: these are the emissions generated by purchased electricity consumed by the University.
Scope 3: these emissions are a consequence of UWE Bristol activities but occur from sources not owned or controlled by UWE Bristol. This includes emissions associated with waste, water, business travel, commuting and procurement.
All are reported to the Higher Education Statistics Agency (HESA), but not yet included in the current project list. See the Carbon Management Plan for more information on how UWE Bristol are working on Scope 3.
Our targets
UWE Bristol is committed to:
22.5% total absolute reduction of carbon by 2020 over 2005 baseline; this means that no matter how many buildings, or students, are at UWE Bristol, we must reduce our overall carbon emissions.
50% relative reduction of energy (area and weather adjusted) by 2020 over 2005 baseline; this means that our buildings and services are more efficient, using less energy and water.
10% and 5% of the University's electricity and gas consumption respectively to be generated from on, or near, site low or zero carbon technologies by 2020.
Contact us
We will soon be considering targets for 2030, so do look out for consultation events and email us at energyteam@uwe.ac.uk.
Our progress
For the reporting year 2016/17, UWE Scope 1 and 2 absolute emissions from buildings were 10% over the 2005/6 baseline (using annual CO2 conversion factors), i.e. 14,510 tCO2e/pa compared with 13,226 tCO2e/pa in 2005/16. Without accounting for decarbonisation of the National Grid, UWE Bristol would have increased emissions by 34% over the 2005/06 baseline (using 2005/06 emission factors), ie 17,690 tCO2e/pa compared with 13,226 tCO2e/pa in 2005/16.
The University's success and expansion of its estate present a huge challenge in meeting the absolute target. Between 2005/06 and 2016/17, the GIA has doubled, from 153,540m2 to 319,200m2.
This year, the GIA increased around 20% from the previous year. This is highlighted when considering performance against the relative target (and allowing for weather), which shows that carbon emissions per m2 have reduced by 45% (from 86kg CO2e / m2 GIA to 48kg CO2e / m2 ) placing UWE Bristol on track to hit its relative target.
Campus Carbon Visualiser
The Campus Carbon Visualiser tool shows the carbon emissions from energy use in campus buildings. The image below displays the carbon emissions on Frenchay Campus: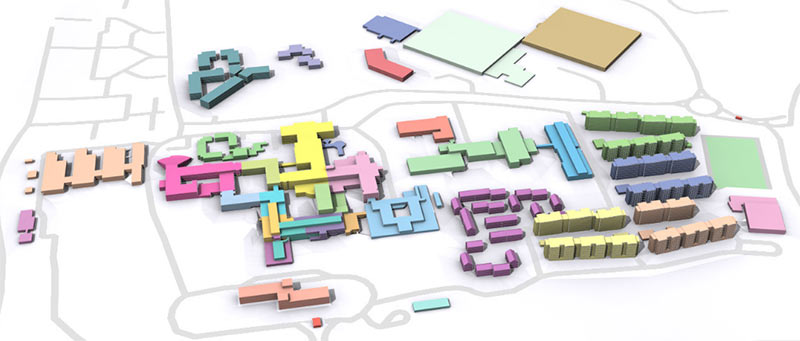 Carbon and energy road map