Sir Ian Carruthers OBE, Chancellor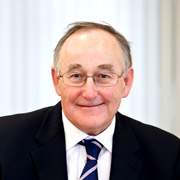 The Chancellor is the ceremonial head of the University and is a source of counsel to the Vice-Chancellor and the Chair of the Board of Governors. The Chancellor's role carries no remuneration or executive powers. The Vice-Chancellor is the academic leader and chief executive. The Vice-Chancellor is a full-time remunerated role.
Sir Ian Carruthers OBE is the Chancellor of the University of the West of England.
He brings a wealth of experience to his role for the University. He was previously Chief Executive of the South West Strategic Health Authority and his career in the National Health Service (NHS) spans over 40 years.
He received a Knighthood in the 2003 New Year's Honours List for services to the NHS, and in 2006 he took over as Interim Chief Executive of the NHS, amongst the largest organisations in the world, having 1.3 million employees and a budget in excess of £100 billion. He has been the lead author on several papers on reviewing and improving the NHS and is seen as an international expert on healthcare systems and service delivery.
UWE Bristol awarded Sir Ian the Honorary Degree of Doctor of Science in 2009, in recognition of his outstanding contribution to health and wellbeing in the South West.
In his NHS career, Sir Ian has transformed access to healthcare as well as the quality of services and financial performance in both national and local settings. He has overseen many major service changes and is a champion of change to deliver better outcomes for patients, staff and communities. He believes strongly in partnership working and this is demonstrated through the improvements that have seen the NHS in the South West achieve healthcare that is amongst the best in the UK.
Sir Ian has undertaken a range of national tasks, which most recently has included a review of service reconfiguration and co-authoring a report on age discrimination in health and social care. Sir Ian was installed as the Chancellor at the Faculty of Health and Life Sciences award ceremony on Monday 18 July 2011.
Sir Ian grew up in Carlisle and attended Carlisle Grammar School. He commenced his career in the NHS at Garlands Hospital, Carlisle, in 1969 as a trainee administrator, before subsequently holding posts in Barnsley, Blackpool, Southend, Portsmouth and Plymouth. From 1987 to 2006, Sir Ian held a succession of senior Health Authority posts with the Dorset, Somerset and Hampshire Health Authorities.

Sir Ian has worked on a number of secondments to the Department of Health, which include Interim Chief Executive of the NHS and Transitional Director to establish the NHS Institute for Innovation and Improvement. From 1994, Sir Ian was seconded to the South and West Regional Health Authority as Regional General Manager and Regional Director of the NHS Executive.