Tribute to Boris
A tribute to the much-loved St Matthias Campus cat Boris, by UWE Bristol postman Paul B.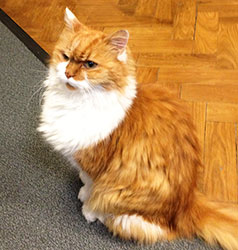 "As I backed the post van down to the library one sunny day about a dozen years ago, there, spread out on the wall, was the scruffiest, yet most beautiful long-haired white and apricot cat. I'd met Boris, the St Matt's cat.
"He became much loved by staff, students and visitors, and his territory included the bar, halls of residence, classrooms and grounds.
"He was mainly looked after by Elaine the cleaner, but lots of people donated money to his vets bills. He would always wait for me when he heard the post van to get his special biscuits. He was part of the life and family of St Matts, so when it became known it was to close, even the opinion of the Vice-Chancellor was sought about his future.
"Sadly, Boris passed away in December 2013 - the place wouldn't have been the same without him."