Student pranks and stunts
The compact size and bustling social activity of the campus created a lively student community. Inevitably perhaps, this sort of atmosphere led to a host of pranks and stunts amongst the student body.
Unlocking a whole lot of trouble

In the 1970s, one student managed to get their hands on a skeleton key, causing complete havoc - taking turf from the lawn to cover someone's bed for example. This student's run came to a crescendo when one poor unsuspecting lad came out of his lectures to find his bedroom furniture out on the sunken lawn, set up exactly how it had been in his room.
Student bar capers
Alongside student accommodation, the student bar was the heart of the social scene and as such many of the capers took place within these walls.
Legend has it that a car was carried into the Students' Union in the 1970s. Whether it was a Fiat 500 or a Mini is disputed, but sources concur that the car was significantly easier to get in than it was to get out. The car sat in its unlikely garage until the double doors were taken off temporarily to allow for its removal.
The stream of pranks continued in a light-hearted, collective and modest fashion.
Writings on the wall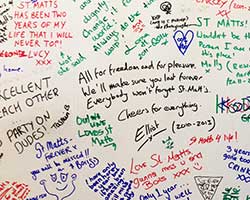 Keeping with the St Matthias tradition of misbehaviour and light-hearted fun, students took the opportunity to write their farewells and memories on the building itself.
Homages to past campus cats, secrets born in the headiness of youth and some particularly expert T-rex illustrations now thickly adorn this beloved building to its bitter end.
By Beth Middleton, UWE Bristol History graduate