St Matthias Campus - a brief history
A brief history of St Matthias Campus, from its days as a training college for school mistresses to becoming a key part of UWE Bristol (formally Bristol Polytechnic).
The foundation of St Matthias College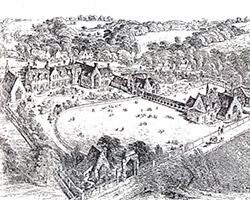 St Matthias College opened in September 1853 as the Gloucester and Bristol Diocesan Training School for school mistresses. It was one of about 25 establishments promoted by the National Society to supply qualified teachers to the Church of England's voluntary elementary schools.
James Henry Monk, Bishop of Gloucester and Bristol, led the fundraising for the new school. The principal donor was Dr Samuel Warneford of Moreton in Marsh, benefactor of many nineteenth-century hospitals, schools and other charities.
James Norton, later architect of Tyntesfield House (now National Trust) and Holy Trinity church (Stapleton) designed the initial buildings, which included a practicing school to which local children were admitted for the students to practice on.
Teaching and learning (1853–1930)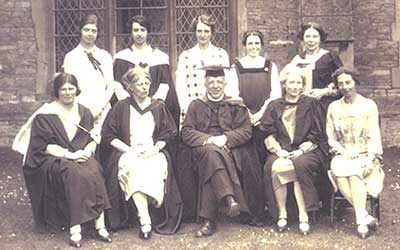 Of the six initial students, five came from a similar school at Kidlington in Oxfordshire. The first student, Julia Long from Faringdon in Berkshire, left at the age of 14 to teach in a workhouse school. The early curriculum was basic but broad, though laced with Anglican doctrine.
Discipline was strict, so much so students rebelled in 1868. As they were expected to have had some teaching experience before admission, by 1914 most students were adult.
The College remained driven by a religious, conservative, and patriarchal ethos. The governors - male and clergy-dominated - resisted HM Inspectors of Schools' encouragement to relax restrictions, improve science teaching facilities, appoint women governors, appoint a woman principal, and admit students straight from school.
The College stayed fiercely independent; even to the extent of refusing to collaborate with other colleges and take up some government grants in case unwelcome conditions might be imposed or the college's autonomy restricted. The college suffered severely from the Geddes cuts in the 1920s. Adhering to its religious beginnings, in the 1930s it admitted nonconformist students but not on an equal footing.
Reform and Higher Education (1930–1972)
Reform and improvement came in 1930 with the first woman principal, the lively and much loved Elsa Nunn. By 1945, student numbers had risen to 125 and expanded further under Nunn's successor, the stern but respected Margaret Graham.
Under government pressure and competition from the local authority, the teacher training college was established at Redland in 1945, and with both students and the college depending more and more on public funding, the curriculum was expanded and modernised. Academic standards improved as teacher education moved towards Higher Education as distinct from professional training.
By the 1950s, St Matthias had long ceased to be merely a training school. In 1955 it changed its name to the College of St Matthias, after the saint to whom the college's original chapel was dedicated (apparently as an afterthought) in 1853.
From 1960, a three-year certificate course was validated by the University of Bristol. Later a four-year B Ed degree was introduced, but the take-up was not high. Male students were admitted from 1966 and students numbers increased to 800 by 1970. The incentive of government grants led to a hotchpotch of architecturally uncoordinated buildings littering the site. Student residence blocks on campus were named after Bishop Monk, Elsa Nunn and Canon Kitson.
Merger with Bristol Polytechnic (1972–1992)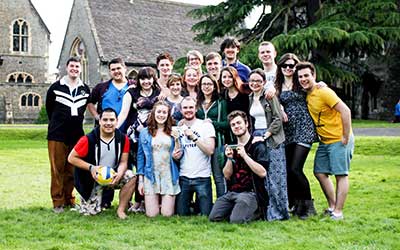 In 1972, the government decided that institutions teaching only one subject, such as colleges of art, education and domestic science, should merge with other institutions to broaden what students experienced, and decreed that in any area, no more than two institutions should train and educate teachers.
As Bristol University had a highly respected education department, either Redland or St Matthias would have to close.
After strenuous attempts to maintain the College's separate existence and independence, and after much argument, some of it informed by educational considerations, the college closed in 1978, its remaining students and staff transferring to Bristol Polytechnic where, with the former Redland College, St Matthias became part of the Polytechnic's faculty of education.
The trust that owned the college land and buildings at Fishponds sold them to Avon County Council, which allocated them to Bristol Polytechnic. The campus housed the Polytechnic's teaching in town and country planning, psychology, history, English and geography. When the Faculty of the Built Environment (now Faculty of Environment and Technology) was formed at Frenchay, St Matthias Campus was devoted almost entirely to the humanities.
The college formed part of the University of the West of England, when Bristol Polytechnic gained university status in 1992.
The Campus and its legacy (1992–2014)
The Fishponds buildings, out-of-date (access for people with physical disabilities was particularly difficult to provide) and increasingly expensive to maintain, were adversely compared with their modern purpose-built counterparts at Frenchay and Bower Ashton.
A new and enlarged library was opened in 1997 and the Canon Kitson block was converted to office and teaching uses.
In 2010, when the University acquired additional land at Frenchay, it decided to transfer the teaching at St Matthias to Frenchay Campus and to dispose of the Fishponds site as planning controls and market conditions might allow.
As part of the UWE Bristol New Campus Masterplan, the Campus closed to students in 2014. The University and the Students' Union hosted a three-day farewell party to celebrate the Campus, its history, staff, ex-staff, students and alumni. From its foundations in 1853 to 1978, about 10,000 students have been taught at the St Matthias Campus of UWE Bristol (formally Bristol Polytechnic). Subjects taught at St Matthias have moved to Frenchay and Bower Ashton, where the historic emphasis on community spirit and the importance of an institution devoted to teaching and learning will remain.
By William Evans, local historian