Stonewall
UWE Bristol is proud to be a Stonewall Diversity Champion and is committed to creating a more inclusive workplace using the Workplace Equality Index (WEI) and involving our staff in this process.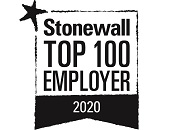 The Stonewall Workplace Index (WEI) showcases the achievements of employers submitting to the Workplace Equality Index.
In 2015, UWE Bristol was ranked top University, and 11th in the top 100 gay-friendly organisations in the UK. See the UWE Bristol press release.
Throughout our involvement with Stonewall and the WEI, we have reviewed processes, everyday practices and policies to ensure they do not discriminate against any student, staff member, contractor or visitor on the grounds of their sexual orientation.
Our relationship with Stonewall and the WEI have further enhanced our ambition to go beyond removing discrimination and focused work to create a truly inclusive University.