About Athena SWAN
What is Athena SWAN?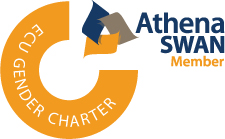 Athena SWAN is a Charter which acknowledges the advancement of gender equality in academia, including professional and support roles. This includes the representation, progression, journey through career milestones and working environment for people of all genders.
The Athena SWAN Charter was initially established in 2005 to recognise commitment to advancing the careers of women employed in science, technology, engineering, maths and medicine (STEMM) fields in higher education and research. It has since expanded to include the arts, humanities, social sciences, business and law (AHSSBL) disciplines.
The Charter now addresses gender equality in a broader sense, which includes transgender staff and students.
Athena SWAN at UWE Bristol
The University became a member of Athena SWAN in 2012 and endorsed the new Athena SWAN principles in 2015. Joining the Charter showcases our commitment to advance gender equality, which is embedded in the new Inclusivity 2020 Single Equality Scheme.
We believe that the Athena SWAN process will catalyse and reinforce the mainstreaming of gender equality in all aspects of our organisation. The Charter specifically seeks to address issues for women progressing across the career pipeline and the absence of sufficient representative numbers of women in senior roles across all disciplines. An example of the progress achieved so far is the increase of senior female staff from 29% to 49% at UWE Bristol.
The University received a Bronze Athena SWAN institutional award in 2013 and renewed the accreditation under the expanded criteria in 2017. A number of our departments have also been recognised. We are committed to ensuring that all of our departments engage with Athena SWAN by 2020.
Athena SWAN contacts