Science Communication: people, projects, events
Online course from the Science Communication Unit
Registration for the 2017 course has now closed.
Science communication: people, projects, events is a short online course created to offer professional development for people new to science communication who want to develop their skills and knowledge in science communication practice. This course is run entirely online and is designed to be accessible to participants from around the world.
Learn more about the course by watching the video below:
The course is taught over a 10 week period. This includes eight weeks of taught material and two private study weeks to enable those working as well as studying to manage their workload. Each weekly 'unit' will have opportunities for independent and directed learning, including online lectures, group activities and self-assessment opportunities. In addition, there will be five online tutorials involving Science Communication Unit staff.
Course dates
The course will run in January 2018.
View further information about how to apply including course fees, the application process and completing a registration form.
Topics for the course
The historical and social contexts of science communication
Understanding audiences
Project planning
Project management
Designing face-to-face activities
Facilitation skills
Presentation skills
Working with the media
Evaluation
The course draws on the expertise of the team that delivers UWE Bristol's popular and practical Science Communication postgraduate programmes.
Requirements
The course is aimed at people new to science communication as well as those with some experience. Participants will need to be comfortable reading, listening and writing in English.
For more information see our frequently asked questions and tutor biographies.
If you would like to register your interest in participating, or have any queries regarding this course, please email science.communication@uwe.ac.uk.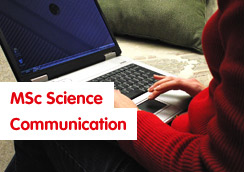 Related documents