Car parking validation and policy
All vehicles (with the exception of motorbikes) parked on campus between 9:00 and 17:00 Monday-Friday must display parking validation in their vehicle windscreen or drivers window.
Vehicle validation
Parked vehicles must display one of the following:
A daily 75 pence parking token, valid for that day. Tokens are available to purchase from Car Park 20, all catering outlets (except OneZone) and Student Union receptions.
A local authority mobility badge or UWE accessible parking permit.
UWE Permits issued by Hartpury College Gloucester.
Permits are only valid in the vehicle they are registered to. If you purchase a new vehicle or need to use an unregistered vehicle you must display a token until you are able to arrange a new permit.
Outside of the core hours and at weekends, parking validation is not required. UWE staff and students must not park their vehicles in neighbouring residential streets.
Persons wishing to park a vehicle overnight or for extended periods must obtain authorisation and register the vehicle's details at the East Reception or directly with the Car Parking Office.
Parking policy overview
The information below is designed to give UWE students, staff and visitors an overview of the Universities parking policies. For full details, please download the Car Parking Policy .
Students
Students that live in University managed accommodation are not permitted to park or bring vehicles onto Frenchay Campus at any time.
All students need to purchase and display valid parking tokens or a permit. Students are those who are attending the University on a course of study.
Tokens are available to purchase from CP20 all catering outlets (except OneZone) and Student Union receptions. Students can apply for an annual permit online.
Students may only park in designated parking spaces within Car Parks 1 and 20 at Frenchay campus and the designated car parking spaces at all other sites.
Please note-students permits are non-refundable without exception and are only valid for one vehicle. Lost permits can be replaced for a £5 admin fee.
Staff
All staff are required to purchase parking tokens or a staff parking permit. This group includes staff working on behalf of the TSU, PhD staff and visiting lecturers.
Staff can apply for a permit. If you wish to cancel your permit and salary deductions please write to the transport office enclosing your permit. Staff can apply for a permit, which normally costs £6.58 monthly from salary deduction. There is a discounted price for staff at Grade D or below of £1.25 a month.
Staff have access to all car parks with the exception of 6, 7, 8, 12, 15, 19, The Centre for Sport and the car park on the extended campus.
Car parks 6, 7 and 15 are reserved for essential access users. Applications must be made to the Car Parking Office and should be accompanied with a supporting letter from a Faculty or Service Head.
Access to the car park at the Centre for Sport is restricted. If you require further information relating to this car park please contact the Centre for Sport reception.
Any staff that have forgotten or lost access cards are required to park within the unrestricted car parks and must display either a permit or daily token (car parks 1 and 20 at Frenchay Campus).
Car parks on the extended campus (car parks 21 to 29) are restricted access only. General staff parking is not presently permitted due to planning and policy constraints. If you are attending any of the facilities on the extended campus such as the Farmhouse, T Block or the ECC, please contact the event organiser to find out if event/visitor parking has been arranged for you.
Visitors
UWE staff are able to pre-book their business visitors into reserved spaces in Car Park 19 when they are logged on from within the campus. Please advise your visitor to report to the East Reception on arrival to collect their visitors pass.
All other visitors are required to park in Car Park 1 and 20 and to purchase and display a valid car parking token. Tokens are available to purchase from Car Park 20, all catering outlets and Student Union receptions on campus.
Visitors assisting students to move in/out of their accommodation should report to the East Reception where they will be provided with a temporary loading pass.
Visitors to Glenside, St Matthias and Bower Ashton should report to the main reception, to collect a permit where they will be asked to register their company name, who they are visiting and their car registration. For those who host frequent visitors please contact the Car Parking Office for a visitors permit.
Please note: UWE does not guarantee access to individual spaces, parking on campus is also entirely at the owner's risk. The University of the West of England accepts no responsibility for any theft of vehicles, or any loss from or damage to vehicles parked on campus.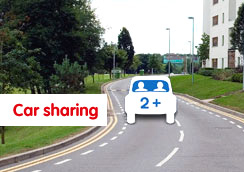 Related documents
Contact us
Car Parking and Transport Services
University of the West of England
Facilities
Coldharbour Lane
Frenchay
Bristol
BS16 1QY
Telephone: +44 (0)117 32 81222
Fax: +44 (0)117 32 83633