Postgraduate research and taught programmes
The Centre welcomes PhD applicants from a wide range of topic areas, though most tend to fall within the fields of expertise of its academic members, and in particular within the following fields.
Corporate finance (e.g. capital structure, credit risk management)
Financial markets (e.g. equity and bond valuation, credit ratings, asset pricing)
International monetary systems (e.g. central banks, macro econometric models, monetary policy, money markets)
Banking and other financial institutions (e.g. bank performance and risk, bank regulation, offshore banking)
International corporate financial reporting (e.g. IFRS compliance, earnings management, financial disclosure)
Governance and accountability (e.g. role of auditors, corporate governance)
The PhD research programme topics supervised by Centre colleagues include:
The Effect of Bank Credit Rating Changes on Bank Stock returns
Extensions to the Capital Asset Pricing Model
The Interaction Between Equity and Credit Risks
Financial Contagion in the MENA Region
Decomposing the Risk Premium in LIBOR rates
Evaluating the Performance of Egyptian Mutual Funds
Power, Politics and Governance and the Annual General Meeting
Determinants of Earnings Management and its Impact on Stock Returns
Accounting Disclosure in GCC Country Companies
The MSc Finance programme
In addition, the Centre supports a well-established MSc Finance programme which places risk management at the heart of the programme, and aims to produce high quality education in the fields of corporate finance and financial markets for those students wishing to secure a career in one of the world's financial centres. Selected Option Modules
For more information on the MSc Finance programme, please visit MSc Finance programme.
UWETIS was established for students interested in finance and investment and exploring its complexities in a supportive environment. They organise social events, specialist talks and other activities.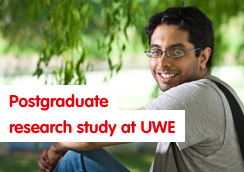 UWE Trading and Investment Society
UWETIS is a student-led society for those interested in financial markets and investment.