News from the Applied Marketing Research Group
Bristol Media event, 13 June 2017
Professor Tim Hughes and Dr Mario Vafeas presented the latest findings from their client-agency relationship research. 55 delegates attended the Bristol Media event held at Paintworks on Monday 13 June 2017. The half-day workshop, entitled 'Client-agency relationships: Winning client commitment', focused on client expectations of their creative and digital agencies.
The workshop was interactive and feedback was very positive with one delegate tweeting:
Great workshop earlier on Client-Agency relationships. Lots of discussion with Prof Tim Hughes & Dr Mario Vafeas. Thanks to @Bristol_Media pic.twitter.com/LYwNrhkxsM

? Creative Cadence ?? (@createcadence) 13 June 2017
Bristol Media/Business West event, 27 April 2017
Professor Tim Hughes and Dr Mario Vafeas were invited to give an introduction to the Bristol Media/Business West breakfast seminar on managing clients, at Bordeaux Quay, Bristol.
Tim and Mario provided an outline of the research they conducted over the last four years and gave delegates a flavour of the key findings. They then participated in round table discussions on strategies for growing the agency and nurturing client relationships. 30 delegates, from a variety of agency types, attended.
Professional Diploma in Digital Marketing, 27 March 2017
Tom Bowden-Green and Tracy Hunt-Fraisse started teaching the first 12-week run of the Professional Diploma in Digital Marketing. This CPD (continuing professional development) course is designed for professionals, of all types, who now find they need to develop digital marketing skills.
Working with BBEC and UWE Bristol Marketing, the target of attracting 20 people from the Bristol business community for this initial run was achieved. There are already nine enquiries for the next run of the course due to start in September 2017.
Design Business Association event, 7 February 2017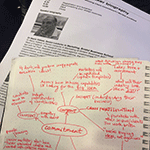 Dr Mario Vafeas presented the latest research findings from the client-agency relationship study that he and Professor Tim Hughes started in 2013 to members of the Design Business Association in London.
The breakfast seminar, entitled 'Winning Client Commitment', covered client expectations in a changing environment, and how agencies can achieve and maintain client commitment. The event sold out and feedback was very positive, with delegates describing it as insightful and inspiring.